I've come over all Laurence Llewelyn Bowen
April 29, 2013
I've been indulging my creative side over the last couple of weeks and really enjoying the process.  I guess I felt the need to reassert my identity and take control of my environment as my latest 'project' is to redecorate my bedroom.
Previously the room was very tranquil and calm in shades of cream and a light yellowy green.  This was the way I decorated the room when I moved in here over 9 years ago.  I figured that I'm well overdue a change.
What has surprised me is how much my taste has changed in the last couple of years.  Not so long ago I would have avoided bold colours and big patterns, now I find I'm drawn to them like a Magpie to shiny things.
So, after a weekend involving decorating I now have wallpaper like this on one wall
I love it as as you can 'see' the pattern in so many ways.  It looks very pretty on the wall and makes quite a bold statement, but I haven't taken pics yet as it isn't finished.
I've also updated my bedding and bought these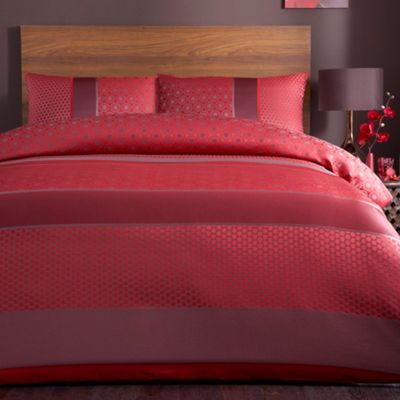 The strange thing is that my bed feels warmer when I sleep under the red duvet.  Is that weird?  So, only curtains to go and my boudoir project will be complete.  I'm sure I can find something fabulous to finish the look, after all shopping is playing to my strengths.  I do love it when a plan comes together 🙂